Archive for the 'Press' Category
 The Sins of Our Mental Health Care System:  Bang-Bang It's Low B12—and Your Doctor Doesn't Even Know It
The Hippocratic oath, first do no harm, is being completely ignored every day in America's mental health care system when it comes to diagnosing and treating vitamin B12 deficiency. The majority of mental illness patients are not being screened despite it being well-established that low B12 causes an array of psychiatric manifestations: (depression, mood disorders, anxiety, paranoia, suicidal ideations, hallucinations, dementia, psychosis, and violent behavior).
Consequences of this poor practice include injury, overcrowded emergency departments, and billions of misspent health care dollars.  Perhaps also crimes of violence and mass shootings.
Consider this, a 19-year-old employed male is brought to the ER for violent behavior.  He has a history of bipolar disorder and is taking prescribed anti-psychotic and anti-anxiety drugs.  Standard psychiatric medical clearance blood tests including alcohol and urine drug screen were normal.  He was referred for evaluation by the psychiatric team which determined him to be safe for discharge.  He was instructed to continue his current medications and outpatient therapy, and was discharged home.
One week later, he is brought back to the ER by police for suicidal and homicidal ideations.  He purchased a gun with the intent of killing his parents as well as himself.  All standard blood tests were repeated and were once again normal.  No evidence of illicit drugs or alcohol.  He is admitted to a psychiatric in-patient facility and the mental health team again takes over the responsibility of his care.
Could this patient have an underlying B12 deficiency causing his behavior?  Absolutely.  He was screened for low B12 on his second ER visit and found to be profoundly deficient.  When further questioned, the patient admitted to abusing nitrous oxide, well-known to cause B12 deficiency.  Nitrous oxide is easy to obtain and it is popularly abused by tweens, teens, and young adults.
The 2012 Sandy Hook Elementary School mass shooter, 20-year-old Adam Lanza, killed 26, plus his own mother and then himself.  Lanza was reported to have developmental issues in early childhood including socialization delays, sensory issues and repetitive behaviors.  Medical professionals treating Lanza toyed with diagnoses of anxiety, obsessive compulsive disorder, Asperger's, and autism spectrum disorder.  Lanza was prescribed a psychotropic medication which was then discontinued because of confusion, disjointed speech, and immobility.  Lanza was later prescribed another psychotropic drug, and again began having severe side effects, reported by his mother before she discontinued it.  The mental health team erroneously interpreted this as being non-compliance by his mother instead of real adverse reactions.
Did Lanza have misdiagnosed B12 deficiency and did it cause or contribute to his violent actions?  The coroner determined him to be 6 feet tall and weighing only 112 pounds.  B12 deficiency is often found in anorexia and malnutrition.  Lanza was found not to have any drugs or alcohol in his system. "There is no chemical reason or apparent medical reason to explain [Lanza's] actions," former chief state's medical examiner Dr. H. Wayne Carver II stated.  But was Lanza screened for B12 deficiency using serum B12, methylmalonic acid, homocysteine, and was he tested for methylenetetrahydrofolate reductase (MTHFR) gene mutations?
All children suspected or diagnosed on the autism spectrum need to have B12 deficiency ruled out, not only because pediatric B12 deficiency can cause permanent brain injury, but because they both present with neuropsychiatric manifestations and developmental delay.  It is dangerous to prescribe psychiatric drugs in patients with underlying B12 deficiency, and especially in those with MTHFR/MTRR gene mutations.
The incidence of low B12 is estimated to be around 25% of the U.S. population.(1)   Along with causing mental illness, it can result in a host of other adverse outcomes (neuropathy, myelopathy, demyelination, brain atrophy, dementia, anemia, vascular occlusions [e.g. strokes], and fall-related trauma). There are numerous reasons a person can become B12 deficient at any age:  1) diet [vegan/vegetarian]; 2) malabsorption; 3) autoimmune; 4) Helicobacter pylori; 5) nitrous oxide administration or abuse; 6) certain medications; 7) eating disorders; 8) maternal; 9) genetic mutations [MTHFR, MTRR, MTR]; 10) alcohol abuse; 11) chemotherapy/radiation; and 12) inborn errors of B12 metabolism.
The latest shooter at You Tube headquarters was a 38-year-old practicing vegan.  She shot three people and then killed herself. Vegans are well known to be B12 deficient because the vegan diet is devoid of B12.  Was B12 deficiency involved in her mental illness causing her to do the unthinkable?
B12 deficiency can make one feel and act "crazy."  When patients develop psychiatric symptoms, doctors typically don't consider the possibility that B12 deficiency might be the cause.  They generally go no further than applying labels such a depression, anxiety, or psychosis and prescribing expensive medications.  This is inappropriate and dangerous treatment if low B12 is the real cause. How will we know if patients are B12 deficient if they are not being tested?  No guidelines exist to ensure this testing takes place.
Emergency departments are the gateway to medical clearance for psychiatric evaluations and admissions.  We have identified many patients who were suicidal and found to be B12 deficient when B12 screening was performed.  Interestingly, most were already on psychotropic drugs, indicating that their primary care physician and/or psychiatrist failed to include B12 deficiency in the differential diagnosis of the cause of their mental symptoms.
The increased incidence of youth practicing veganism, vegetarianism, the increase abuse of nitrous oxide, and the fact that clinicians and mental health institutions do not screen their patients for B12 deficiency, creates the perfect storm for people being misdiagnosed as having mental illness, potentially leading to more crimes of violence with deadly outcomes.
B12 deficiency is the most unrecognized medical disorder causing mental illness.  Oversight? Incompetence? Health care malpractice? Poor protocols?  Where are the American College of Psychiatrists and the American Medical Association?  How do they not know about B12 deficiency? It appears our health care leaders, physician and nursing organizations, and elected officials are either oblivious or complacent to this negligent practice.  No wonder we are in a major mental health care crisis and our psychiatric facilities are bursting at the seams.  We don't even rule out treatable conditions?  B12 deficiency has a treatment, which is inexpensive and easy to provide.   And therein may lie the answer, it is too cheap to treat, and there is no big money to be made.
One has to ask, is Big Pharma at the root of persuading mental health leaders and medical academia to ignore B12 deficiency and not include it in their differential diagnosis?  Why has there been such a severe oversight for decades?  When misdiagnosed B12 deficiency has been brought to the attention of health care leaders, institutions, governmental officials, and elected politicians to investigate, why has it fallen on deaf ears?
There are some clinicians who do screen their patients, but why aren't the majority?  How many more people will have to die before someone in power changes this oversight in our mental health care system?
Who is the watchdog?  Why hasn't the Centers for Medicare & Medicaid Services made undiagnosed B12 deficiency a Never Event?  Untreated B12 deficiency causing mental illness, fall-related trauma, neurologic injury, developmental disabilities, vascular occlusions, and severe anemia are serious, preventable, and costly medical problems.   Does the Joint Commission who accredits and certifies more than 20,000 health care organizations and programs in the U.S. know that our system is failing the public by misdiagnosing B12 deficiency?  Physicians can't treat what they don't know.
There is no excuse for anyone from any country to suffer from mental illness caused by B12 deficiency, or to die from killing themselves or someone else. Our mental health care system has failed to understand a fundamental medical disorder, a discovery for which three Americans won the Nobel prize in medicine & physiology in 1934.  We can win the war on B12 deficiency through education and advocacy.  This can be accomplished by initiating a multimedia campaign and enlisting help from the government, insurance industry, and health care organizations.  We need to start a conversation about B12 deficiency and that conversation needs to begin today.
1.   T.S. Dharmarajan and E.P. Norkus.  Approaches to vitamin B12 deficiency.  Early treatment may prevent devastating complications.  Postgrad Med. 2001 Jul;110(1):99-105.
REFERENCES
1.  Vitamin B12 deficiency: an important reversible co-morbidity in neuropsychiatric manifestations.
Issac TG, Soundarya S, Christopher R, Chandra SR. Indian J Psychol Med. 2015 Jan-Mar;37(1):26-9. doi: 10.4103/0253-7176.150809.
2.  Cobalamin C deficiency in an adolescent with altered mental status and anorexia.
Rahmandar MH, Bawcom A, Romano ME, Hamid R. Pediatrics. 2014 Dec;134(6):e1709-14. doi: 10.1542/peds.2013-2711. Epub 2014 Nov 3.
3.  Late-onset cobalamin C deficiency Chinese sibling patients with neuropsychiatric presentations.
Wang SJ, Yan CZ, Liu YM, Zhao YY.  Metab Brain Dis. 2018 Jan 26. doi: 10.1007/s11011-018-0189-3.
4.  Vitamin B12 Deficiency: Recognition and Management.
Langan RC, Goodbred AJ.  Am Fam Physician. 2017 Sep 15;96(6):384-389.
5.  Reversible Vitamin B12 Deficiency Presenting with Acute Dementia, Paraparesis, and Normal Hemoglobin.
Almoallim H, Mehdawi FS, Cheikh MM, Al-Dhaheri F, Aqeel AM.  Case Rep Neurol Med. 2016;2016:4301769. doi: 10.1155/2016/4301769. Epub 2016 Dec 13.
6.  Treatable Dementia due to Vitamin B12 and Folate Deficiency.  Yoshizawa T. Brain Nerve. 2016 Apr;68(4):407-20. doi: 10.11477/mf.1416200414.
7.  Reversible Clinical and Magnetic Resonance Imaging Findings in Late-Onset Cobalamin C Defect.
Gurkas E, Kartal A, Aydin K, Kucukçongar A, Dilber C, Ceylaner S.  Genet Couns. 2015;26(4):425-30.
8.  Decreased Brain Levels of Vitamin B12 in Aging, Autism and Schizophrenia.   Zhang Y, Hodgson NW, Trivedi MS, Abdolmaleky HM, Fournier M, Cuenod M, Do KQ, Deth RC.  PLoS One. 2016 Jan 22;11(1):e0146797. doi: 10.1371/journal.pone.0146797.
9.  Psychosis and low cyanocobalamin in a patient abusing nitrous oxide and cannabis.   Garakani A, Welch AK, Jaffe RJ, Protin CA, McDowell DM.  Psychosomatics. 2014 Nov-Dec;55(6):715-9. doi: 10.1016/j.psym.2013.11.001. Epub 2013 Nov 5.
10.  Variable clinical presentations of secondary delusional infestation: an experience of six cases from a psychodermatology clinic.
Altunay IK, Ates B, Mercan S, Demirci GT, Kayaoglu S.  Int J Psychiatry Med. 2012;44(4):335-50.
11.  Genetic variants of the folate metabolic system and mild hyperhomocysteinemia may affect ADHD associated behavioral problems.
Saha T, Chatterjee M, Verma D, Ray A, Sinha S, Rajamma U, Mukhopadhyay K.  Prog Neuropsychopharmacol Biol Psychiatry. 2018 Jun 8;84(Pt A):1-10.
12.  Adolescence/adult onset MTHFR deficiency may manifest as isolated and treatable distinct neuro-psychiatric syndromes.
Gales A, Masingue M, Millecamps S, Giraudier S, Grosliere L, Adam C, Salim C, Navarro V, Nadjar Y.  Orphanet J Rare Dis. 2018 Feb 1;13(1):29. doi: 10.1186/s13023-018-0767-9.
13.  Cognitive impairment is associated with elevated serum homocysteine levels among older adults.   Kim S, Choi BY, Nam JH, Kim MK, Oh DH, Yang YJ.  Eur J Nutr. 2018 Jan 10. doi: 10.1007/s00394-017-1604-y.
14.  The risks of folic acid to the nervous system in vitamin B12 deficiency: rediscovered in the era of folic acid fortification policies.
Reynolds EH.  J Neurol Neurosurg Psychiatry. 2017 Dec;88(12):1097-1098. doi: 10.1136/jnnp-2017-316296.
15.  Vitamin B12, folic acid, homocysteine and vitamin D levels in children and adolescents with obsessive compulsive disorder.
Esnafoğlu E, Yaman E.  Psychiatry Res. 2017 Aug;254:232-237. doi: 10.1016/j.psychres.2017.04.032. Epub 2017 Apr 21.
16.  The C677T variant in MTHFR modulates associations between brain integrity, mood, and cognitive functioning in old age.
Roussotte FF, Hua X, Narr KL, Small GW, Thompson PM; Alzheimer's Disease Neuroimaging Initiative.  Biol Psychiatry Cogn Neurosci Neuroimaging. 2017 Apr;2(3):280-288. doi: 10.1016/j.bpsc.2016.09.005.
17.  Psychiatric comorbidities in a young man with subacute myelopathy induced by abusive nitrous oxide consumption: a case report.
Mancke F, Kaklauskaitė G, Kollmer J, Weiler M.  Subst Abuse Rehabil. 2016 Sep 29;7:155-159.
18.  Mood disorder with mixed, psychotic features due to vitamin b12 deficiency in an adolescent: case report.
Tufan AE, Bilici R, Usta G, Erdoğan A. Child Adolesc Psychiatry Ment Health. 2012 Jun 22;6(1):25. doi: 10.1186/1753-2000-6-25
19.  Acute psychotic depression as a sole manifestation of vitamin B12 deficiency.
Bar-Shai M, Gott D, Marmor S.  Psychosomatics. 2011 Jul-Aug;52(4):384-6. doi: 10.1016/j.psym.2011.01.003. Epub 2011 Apr 15
20.  Pernicious anemia presenting as catatonia: correlating vitamin B12 levels and catatonic symptoms.
Bram D, Bubrovszky M, Durand JP, Lefevre G, Morell-Dubois S, Vaiva G.  Gen Hosp Psychiatry. 2015 May-Jun;37(3):273.e5-7. doi: 10.1016/j.genhosppsych.2015.02.003.
21.  Neurologic, psychiatric, and other medical manifestations of nitrous oxide abuse: A systematic review of the case literature.
Garakani A, Jaffe RJ, Savla D, Welch AK, Protin CA, Bryson EO, McDowell DM.  Am J Addict. 2016 Aug;25(5):358-69. doi: 10.1111/ajad.12372. Epub 2016 Apr 1. Review.
22.  Vitamin B₁₂ levels and psychiatric symptomatology: a case series.   Jayaram N, Rao MG, Narasimha A, Raveendranathan D, Varambally S, Venkatasubramanian G, Gangadhar BN.  J Neuropsychiatry Clin Neurosci. 2013 Spring;25(2):150-2. doi: 10.1176/appi.neuropsych.12060144
23.  Crawford JR, Say D. Vitamin B12 deficiency presenting as acute ataxia.  BMJ Case Rep 2013. Doi:10.1136/bcr-2013-008840.
24.  Wolansky LJ, et al.  Subacute combined degeneration of the spinal cord: MRI detection of preferential involvement of the posterior columns in a child.  Pediatr Radiol (1995) 25: 140-141.
25.  Malhotra, S et al.  Brief report: childhood disintegrative disorder as a likely manifestation of vitamin B12 deficiency.  J Autism Dev Disord. 2013 Sep;43(9):2207-10. doi: 10.1007/s10803-013-1762-6.
26.  Dogan M, et al. Psychotic disorder, hypertension and seizures associated with vitamin B12 deficiency: a case report.  Hum Exp Toxicol. 2012 Apr;31(4):410-3. doi: 10.1177/0960327111422404. Epub 2011 Oct 25.
27.  Brett, A. Myeloneuropathy from whipped cream bulbs presenting as conversion disorder. Australia and New Zealand Journal of Psychiatry 1997, 31(1):131–2.
28.  Jauhar S1, Blackett A, Srireddy P, McKenna PJ. .  Pernicious anaemia presenting as catatonia without signs of anaemia or macrocytosis.  Br J Psychiatry. 2010 Sep;197(3):244-5. doi: 10.1192/bjp.bp.108.054072
29.  Middleman, A. B., and Melchiono, M. W. A routine CBC leads to a non-routine diagnosis. Adolescent Medicine 1996, 7(3):423–6.
30.  Mavrommati K, Sentissi O. Delirium as a result of vitamin B12 deficiency in a vegetarian female patient.  Eur J Clin Nutr. 2013 Sep;67(9):996-7. doi: 10.1038/ejcn.2013.128. Epub 2013 Jul 17.
31.  Payán Ortiz M, et al. A cyanocobalamin deficiency that simulates Creutzfeldt-Jakob Neurologia. 2011 Jun;26(5):307-9. doi: 10.1016/j.nrl.2010.12.016. Epub 2011 Feb 25.
32.  Catalano G. et al. Catatonia:  another neuropsychiatric presentation of vitamin B12 deficiency? Psychosomatics 1998; 39:456-460.
33.  Masalha R. et al. Cobalamin-responsive psychosis as the sole manifestation of vitamin B12 deficiency. Isr Med Assoc J 2001; 3:701-703.
34.  Raveendranatan D. et al. Vitamin B12 deficiency masquerading as clozapine-resistant psychotic symptoms in schizophrenia. J Neuropsychiatry Clin Neurosci 2013; 25:e34-e35.
35.  Fafouti M, et al. Mood disorder with mixed features due to vitamin B(12) and folate deficiency. Gen Hosp Psychiatry. 2002 Mar-Apr;24(2):106-9.
36.  Payinda, G., and Hansen, T. Vitamin B(12) deficiency manifested as psychosis without anemia. American Journal of Psychiatry 2000, 157:660–61.
37.  Jayaram, N. et al.  Vitamin B12 levels and psychiatric symptomatology: a case series. J Neuropsychiatry Clin Neurosci 25:2, Spring 2013.
38.  Silver, H. Vitamin B12 levels are low in hospitalized psychiatric patients. Israeli Journal of Psychiatry and Related Sciences 2000, 37(1):41–5.
39.  Daynes, G. Cyanocobalamin in postpartum psychosis. South African Medical Journal 1975, Crawford JR, Say D. Vitamin B12 deficiency presenting as acute ataxia.  BMJ Case Rep 2013. Doi:10.1136/bcr-2013-008840
40.  Syed EU, Wasay M, Awan S. Vitamin B12 supplementation in treating major depressive disorder:  a randomized controlled trial.  Open Neurol J. 2013 Nov 15;7:44-8.
Sally will be giving a 120 minute lecture at Loughborough University, Loughborough, Leicestershire, UK on Saturday, May 16, 2015.  The following is from the conference website http://www.b12deficiency.info/conference:
About the conference
This conference is for healthcare professionals and educators from all disciplines. It has been arranged by Tracey Witty of www.b12deficiency.info to promote greater awareness and understanding of B12 and Thyroid disease.
The conference also seeks to highlight the associations between these two commonly encountered health conditions and explain how nutrigenomics (an exciting new field of study emerging from the research into genetics, methylation and nutrition) may be employed to treat patients according to individual need.
The four speakers are highly knowledgeable, experienced and engaging. They will discuss the multi-systemic and polyglandular nature of the conditions, diagnosis & misdiagnosis, personalised treatment options and appropriate data sources.
The conference offers guaranteed clinical relevance and interest for professionals from a wide variety of healthcare settings.
Time/cost saving treatment approaches will also be discussed.
Q&A time with the speakers is scheduled.
The conference is competitively priced to include lunch, free on-site parking and a post conference webinar. 'Early bird' booking is advisable.
We have secured four highly regarded experts . . .
Sally Pacholok RN BSN – The effect of B12 deficiency on all body systems. Symptoms, causes, those at risk and common misdiagnoses.
Lorraine Cleaver Expert Patient – Diagnosis and treatment of thyroid disease from a patient's perspective.
Umahro Cadogan Adjunct Professor of Nutrition – Genetic polymorphisms and the role of B12 and folate in methylation.
Dr. Malcolm Kendrick MbChB, MRCGP GP – Doctoring data – how data are manipulated to present information in wildly inaccurate ways.
In 2014, film producer Elissa Leonard wrote and directed the movie Sally Pacholok, which is based on Pacholok's life-long battle to raise awareness about B12 deficiency and the consequences of its misdiagnosis.  The drama  is fast-paced and cleverly written.  The audience is entertained, yet learns what happens when B12 deficiency strikes.  Pacholok is an attractive whistle-blower who goes up against a wealthy heath care system and saves lives behind closed doors.  The movie explains what forced her to write "Could It Be B12?"  Passionate, romantic, and suspenseful, this film shows the power of one woman who changes the standard of care–but nothing is as easy as it looks.  Pacholok may be the Florence Nightingale of the 21st century.
The movie is scheduled to premier at 7:20pm on February 28, 2015, at the DC Independent Film Festival in Washington, DC at the Naval Heritage Center's Burke Theater (701 Pennsylvania Avenue NW).  This showing has sold out as of February 11.  A second showing has been added on March 1, 2015 at 11:00am.
Here is the link to the movie trailer: http://vimeo.com/user8814977/review/118546403/ec3a094649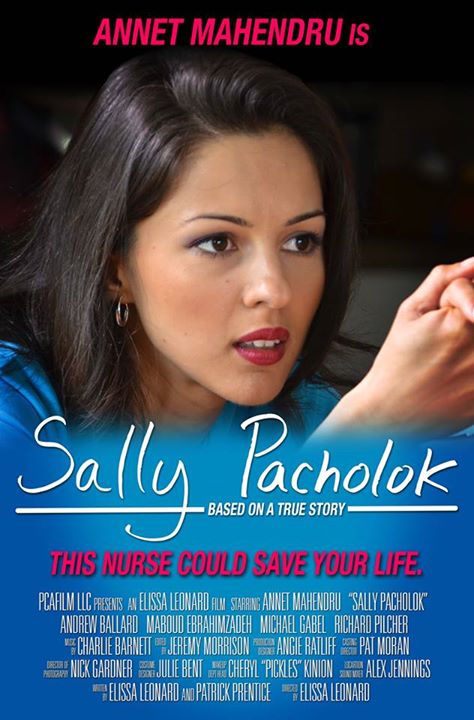 Feisty ER nurse takes on the medical establishment when she uncovers an epidemic of misdiagnosis. Based on the true story of Sally Pacholok, RN
Description 
A feisty nurse takes on the medical establishment
When nurse Sally Pacholok learns that her recent bouts of dizziness and fatigue are the result of a B-12 deficiency, she tries unsuccessfully to educate doctors at her hospital about this debilitating, often fatal condition, which mimics multiple sclerosis, Parkinson's, dementia, and a host of better-known diseases. As she watches misdiagnosed patients wasting away and dying, she decides to write a book.
Based on a true story.
Genre
Whistle-Blower/ Romance

---

Studio
PCAFilm, EL Productions

---

Starring
Annet Mahendru, Andrew Ballard, Maboud Ebrahimzadeh, Richard Pilcher, Michael Gabel, Mark Ziv, Bethany Hoffman

---

Directed By
Elissa Leonard

---

Written By
Elissa Leonard and Patrick Prentice

---

Produced By
Elissa Leonard
On November 18, 2009, film and television producer Elissa Leonard approached us regarding producing a documentary on vitamin B12 deficiency. Elissa became interested in B12 deficiency after reading the first edition of our book, Could It Be B12?  An Epidemic of Misdiagnoses, and learned one of her own family members was afflicted.  Elissa has joined us and is passionate about educating the U.S. about this unrecognized disorder. Her goal is to uncover whatever truths she can find: "Is there an epidemic of misdiagnosis? Do doctors know what to look for and are they looking for it? What is the state of our scientific knowledge? Has the federal fortification of foods with folic acid caused harm and to whom?" she says, "This would be the definitive B12 movie."
Elissa began her interviews in 2010, and we were interviewed in late September.  Her documentary was completed in late 2011 and is now available to view on our website on this page (see B12 Documentary by Elissa Leonard) and on the B12 Documentary page. Elissa has spent years producing and writing a health/science/technology documentary series for PBS called Innovation. She has won two Emmys for her work on Innovation. Elissa was also the Head of Story Development for Explorer, a series on National Geographic Television. She has the contacts and credibility with the right people to get this film aired. We are hopeful this documentary will create even more B12 deficiency awareness so lives can be spared as well as save billions of health care dollars. Please post your comments and reactions to the film below. We are hopeful Elissa will be able to get her film viewed by 60 minutes, Dateline, PBS or any other responsible and informative news program.
Please tweet about this informative documentary and spread the word.  We need public assistance to spread awareness to this mismanaged medical disorder.  We are trying to get a bill to declare September as "B12 Awareness Month," to protect the lives of millions and save billions of dollars for the nation's taxpayers.   Help us, help you!
Dr. Paul Thomas hosts a YouTube channel called Pediatric Advice (paulthomasmd).  He recently posted an excellent video about a case of vitamin B12 deficiency in a 9 month old baby.  It's 5 minutes in length and well worth taking the time to watch.
Sally was interviewed for an article in Bottom Line/Personal which was published in the February 15, 2012 edition (Volume 33, Number 4, pages 9-11).  The article covers the basics of vitamin B12 deficiency, why the diagnosis gets missed, who is at risk, and tests and treatments for B12 deficiency.
Sally was interviewed by Kim Bullock on Brown Suga Radio on October 25, 2011.  The 45 minute interview can be seen on Kim's blog http://brownsugaradio.com.
Brown Suga Radio is designed to uplift and embrace the African American Community with Love, Laughter and Inspiration.  Kim's passion and motivation is to celebrate Urban Culture by promoting music, arts, books, movies, health, beauty, fashion, spirituality, lifestyles and relationships.  Inaddition, she provides highly requested interviews from various Entertainers and Entrepreneurs.
The link to Sally's interview is below:
http://www.blogtalkradio.com/brownsugaradio/2011/10/25/bringing-awareness-to-a-silent-crippler-the-b12-epidemic#
Sally was interviewed by Dr. Jill Tieman on January 9, 2012 for her blog, Real Food Forager http://realfoodforager.com.
Dr. Tieman describes the creation of her blog: "As a Clinical  Nutritionist/Chiropractor with a  specialty in SCD (Specific Carbohydrate Diet) and GAPS (Gut and Psychology Syndrome), I found myself giving Weston Price Foundation, SCD or GAPS style advice again and again.  It became clear to me that I needed a way to get this dietary information to people in a usable, concise, outline without having to repeat myself again and again. I realized that if I used the format of a blog, it could reach a lot of people and also allow us to have a dialog. Importantly, I could refer people to this blog for the details they would need to be successful on these various diets. As a Weston A. Price Foundation chapter leader, it is also my goal to reach as many people as possible through this blog in order to help them achieve vibrant health in our modern world."  Her main purpose "…is to give general information to individuals with the perspective of traditional ways of eating and preparing food."
Follow the link below to read the interview with Sally:
http://realfoodforager.com/the-meat-of-b12-deficiency-interview-with-sally-m-pacholok-r-n-b-s-n/
Sally was interviewed by Kim Greenhouse for her website It's Rainmaking Time!  http://itsrainmakingtime.com/  The 84 minute podcast was posted August 12, 2011.  Sally and Kim discuss, in depth, vitamin B12 deficiency and her book Could It Be B12?
Kim Greenhouse created It's Rainmaking Time! "…as a broadcast vehicle for introducing new and ancient knowledge, solutions, discoveries, and compelling stories."  She describes her website as follows: "It's Rainmaking Time! is about bringing people together and providing a space for the expansion of consciousness.  The show is meant to highlight the exciting realms of exploration, discovery, new and ancient knowledge, and to empower inquiry, adventure, and investment in totally new areas of focus.  Our guests span a broad variety of professions, often with totally different backgrounds, frames of reference, knowledge, information, experience, and expertise.  They are often front-runners in their fields, both known and unknown, who wish to elevate understanding of something that is beneficial to the public."
Click on the link below to listen to the interview with Sally:
Health care professionals, governmental leaders, and the public are banding together to end the global epidemic of undiagnosed B12 deficiency.  We envision the year 2012 as the year B12 Awareness becomes public policy and updated protocols for early diagnosis and treatment are created.  We are hopeful that in 2011, the 2nd edition of Could It Be B12?, along with our continued B12 Awareness campaign and work with other countries will end this epidemic.  We invite all health care professionals, the media, governmental leaders, and the public, to join us in this life saving mission.
The United Kingdom has become involved and is making tremendous progress.  In 2009, Martyn Hooper, Executive Chairman of the Pernicious Anaemia Society (PAS) of the United Kingdom, joined forces with us and created U.K. B12 Awareness Week in the last week of October. Together with the PAS, we gathered in the House of Commons in London on October 28, 2009, to discuss this issue with Members of Parliament. On May 28, 2010, as a result of the ongoing work of the PAS, the Medical Director of the National Health Service (NHS) in Wales, Dr. Stephen Hunter, became involved and requested a review of vitamin B12 deficiency and its diagnosis and treatment by the National Institute for Health and Clinical Excellence (NICE) in the U.K. Dr. Hunter studied the PAS website forum group, which contains hundreds of testimonials from patients who were misdiagnosed and are receiving improper treatment. We were pleased to learn that the first edition of our book helped to galvanize Dr. Hunter's resolve to get B12 deficiency reviewed by NICE.  This is a major victory for those who suffer from B12 deficiency.  We hope that NICE will approve the review and create new protocols that will impact patients worldwide.
Also in 2009, we became acquainted with Joseph Chandy, MD, a general practitioner in the U.K. with a registered list of 5,700 patients (four doctors). Little did we know that a seasoned clinician some 3,500 miles away and an ocean apart had been silently fighting the same battle as Sally had for so many years—and had shared the same motivation, passion, dedication, and persecution.  Patients and fate would bring us together. Dr. Chandy has been treating patients with neuropsychiatric symptoms with or without macrocytosis, using B12 replacement, since 1981.  In contrast to the national estimate that pernicious anemia only affects 0.01% of the population, Dr. Chandy finds that 18% of his patient population exhibit symptoms consistent with B12 deficiency, and perhaps more importantly, benefit from B12 therapy.  On two occasions, each for more than 18 months at a time (in 2002 and 2007), B12 treatment was withdrawn from his patients at government insistence, causing untold and sometimes irreversible damage and suffering.
Dr. Chandy and his assistant, Hugo Minney, Ph.D. (himself a B12 deficiency sufferer), are making tremendous changes in the U.K., fighting for their patients by writing letters to Parliament, assisting the PAS, writing academic papers for publication, and assembling evidence for submission to regulatory bodies in the U.K.  Hugo authors the B12 Deficiency Patient Support Group web site (http://www.b12d.org/) which gives valuable first line advice to thousands of people worldwide.
In the U.K., we are beginning to see the fruits of our labor.  On September 25, 2010, Dr. Chandy received the highly prestigious Glory of India Award, honoring his lifetime of service in primary care and his work on vitamin B12 deficiency.  Prime Minister David Cameron invited Dr. Chandy to a reception in Downing Street.  Members of Parliament Priti Patel and Grahame Morris have written to Secretary of State for Health Andrew Lansley requesting that the U.K. government investigate how B12 deficiency impacts patients, the National Health System, and employers.  This is a major victory, and we are hopeful that their investigation will lead to the introduction of a screening program, updated protocols, and on-going research into the diagnosis and treatment of B12 deficiency.